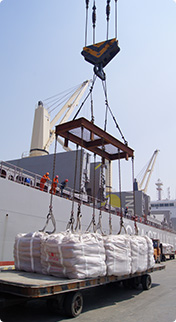 Cement is a major business of Wanpeng International. The company has established a strategic partnership with several famous listed enterprises at home, such as Conch Cement, Jidong Cement, Shanshui Cement, Tianshan Cement and CUCC. All cement strictly follows the quality standard of exported cement. The brands of the company such as SOL and WP are strict with the production and package, applying modernized management mode and advanced marketing strategies so that the cement of the company has won unanimous praise in Africa and Southeastern Asia regions.
  Wanpeng International has engaged in cement sale and established subsidiaries in Africa since 2003. Gabon, as the first cement sale outlet of the company in Africa, achieved a cement sale volume of 100 thousand tons in the same year. In 2009, the company established a subsidiary in Angola, whose annual sale volume exceeds 600 thousand tons now; in 2010, the company established subsidiaries in ten countries such as the Democratic Republic of Congo, the Republic of Congo, Guinea, Ghana and Cote d'Ivoire to engage in the trade of cement, with an annual sale volume exceeding 2 million tons now, which has achieved a breakthrough of a 200% increase in sale volume of cement within four years.
  Wanpeng International is one of the largest cement exporters in African region. Up to date, the company's sale volume of cement exceeds 2 million tons each year. It's predicted that by 2014, the sale volume will reach 3 million tons. It will establish a complete system of sale, warehousing and logistics and delivery in 13 countries and regions of Africa. The annual sale amount of the company in African region can reach about 500 million dollars.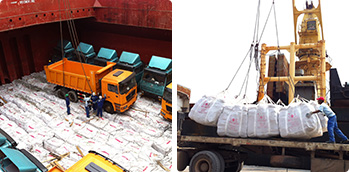 In the meantime, targeting the features of African countries such as poor road conditions, lack of professional transport vehicles and changeability of cement supply time, the company established professional logistic fleet of vehicles in Angola, the Democratic Republic of Congo and the Republic of Congo. Each fleet of vehicles is under the charge of experienced fleet leader who is responsible for managing and regulating the transport of vehicles and ensuring that the cargo delivered timely to the destinations.
  The professional logistic fleet of vehicles is a big feature in the company's foreign business, which has provided powerful service guarantee for the company's sale of cement. In the coming three to five years, the company will build a logistic system in accordance with the business status of each subsidiary and will establish a specialized logistics company to develop logistic service to each area beyond the transport of cement.