The logo of Wanpeng Group is composed of the initial letters of W and P in the standard English WANGPENG. The large-rim blue pattern appears powerful, standing for the solid strength and limitless potential of the group. The hollow-out P transformed from a five-pointed star signals that the company is an internationalized and diversified trade company engaged in shipping transport. Meanwhile, it reflects the enthusiastic pursuit of Wanpeng Group in the future and the extraordinary internal vitality of Wanpeng Group. The sturdy bold-face letters indicate the strength characteristics of Wanpeng Group, i.e., rigor, firmness and steadiness and display the corporate spirit of Wanpeng Group to seek breakthroughs and explore new paths and fields for the mankind.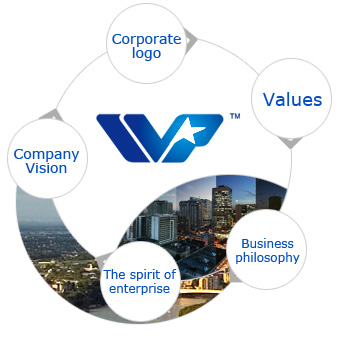 Values of Wanpeng
(Simplicity)
(Accountability)
(Collaboration)
(Respect)
(Integrity)

Operation Philosophy
People oriented, it adheres to a corporate spirit of "Business based on Integrity, Success achieved through Dedication". The company's core values are "Establishing an Honest Brand, Creating a Long-lasting Business, and Building an International Enterprise" and its development philosophy is "Seeking Stability in Development and Seeking Development in Stability". These concepts have created values for the customers, created opportunities for the employees and created benefits for the society and formed the values and codes of conduct to which all employees adhere.

Corporate Spirit
Based on the trade between China and Western Africa, Wanpeng International has gradually expanded into multi-segment and diversified business such as production, transport, sale, project logistics, enterprise acquisition and financing. Under the reality environment of increasingly fierce competition, the exertion of the team's strength is an important condition for the enterprise to win competitive advantages. Seeking breakthroughs and exploring for the paths, expanding and creating new fields for the mankind, Wanpeng Group has built a "united, innovative, dedicated and devoted" workforce during the long-period practice of construction and development, which is a successful factor for the rapid and steady development of Wanpeng Group.

Corporate Vision
Wanpeng International is a Chinese enterprise that understands Africa best and also one of the most successful Chinese enterprises in Africa.
Enhancing the values with quality, being the most trustable diversified trade company at home and abroad
It's not only our firmly-held creed, but also the goal of our undertaking to enhance the product values, employees' values and corporation's values with excellent quality and thus win the trust from the society. The excellent quality is not just the splendid quality of imported and exported products, but also includes our in-place service and high-quality talents. We will provide our employees with a stage for self-fulfillment, keep our promise with the clients, provide our partners with steady and continuous investment return and perform our due responsibilities for the society.